Gila River Arena Seating Chart
Gila River Arena seats 17,125 for hockey and lacrosse, 18,300 for basketball and about 19,000 for concert events. The arena has two separate concourses on two seating levels, providing fans with excellent views.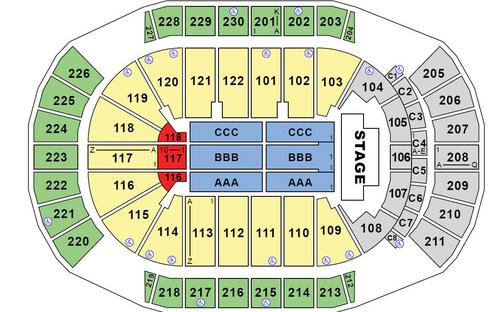 It also features an intimate seating bowl, with all the modern amenities a guest could require. The arena has 3,075 club seats and 87 luxury suites, including two Luxury Tower Suites, and 12 party suites that can accommodate large groups of up to 50 people.
For those who wish to experience unique club and dining opportunities, there is the Suite Level Club, which consists of 400 upscale seats. Open exclusively to season ticket holders, there is the BMW Lounge, which is an upscale private club.
For guests with disabilities, accessible/disabled seating is available on all levels of the arena, and adjacent companion seating may be purchased based on availability. Please make sure to indicate that you require such seating when ordering accessible/disabled tickets, so that you can be properly assisted.