Desert Diamond Arena Seating Chart
Desert Diamond Arena in the Westgate Entertainment District offers 19,000 seats. Of these, 3,075 are classified as club seats, and there are 87 luxury suites. Desert Diamond Arena seats 17,125 for hockey and lacrosse, 18,300 for basketball and about 19,000 for concert events. The arena has two separate concourses on two seating levels, providing fans with excellent views. For those who wish to experience unique club and dining opportunities, there is the Suite Level Club, which consists of 400 upscale seats. Open exclusively to season ticket holders, there is the BMW Lounge, which is an upscale private club.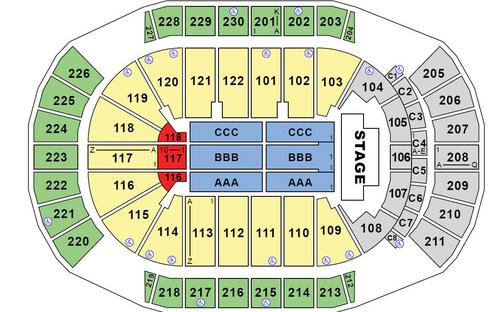 ADA Accessible Seating
Desert Diamond Arena offers accessible seating on all levels, but adjacent companion seating is not guaranteed and depends on availability. Other convenient services include accessible parking and drop-off locations, assisted listening devices and interpretive services (with 72 hours notice).
Floor Seats
Floor seats are at ground level, and great if you like being up close at concerts. They're not raked, though, so the further back you go from the stage, the more people's heads will be in front of you. The configuration is variable, ranging from 6-8 blocks of seats, two blocks of VIP seats or the entire area for standing room only. Sometimes there'll be a pit area directly in front of an end stage, and sometimes floor seats will go behind the mixing desk. Floor seats for in-the-round performances and contests will usually surround the stage.
Bowl Level Seats
The lower bowl area slopes back from the Floor, and sections are numbered from 101 to 122 in a clockwise direction starting from the center left as you face the end stage. Sections 101 and 122 are adjacent. Each section has up to 26 rows, from A at the front to Z at the back.
Upper Tier
On the upper tier level, a similar numbering scheme applies, with sections 201 and 230 next to each other in the center left. The 200 sections are numbered clockwise from center. Sections along the sides have rows A to K, while those at the ends have rows A to Q.
Suites
The suites are situated between the lower bowl and the upper tier. They're on two levels, with numbers starting at 1100, forming a horseshoe directly above the 100 level, round to the sides of the end stage. You'll get options to view from three sides of the arena if you choose these suites. Suites with numbers starting at 1200 are located above the 1100 suites and run along both sides of the arena. There are 87 luxury suites in the Desert Diamond Arena, including two tower suites. For large groups, you can book one of 12 party suites, which hold up to 50 people. You'll get a top quality view from the club level, while having your own dedicated space. You may take the whole suite privately, or buy a single ticket in a shared suite. Additional information about what's offered in a suite will be on your ticket, and may include club access, wait services and upscale menus.
Club Seats
400 upscale Club seats are located behind where an end stage might be, numbered in sections C1 to C8, rows A to E. Opposite them, at the other end of the arena, more Club suites are located behind sections 116-119. Each section is subdivided into several different suites. Club suites offer additional private facilities and dining opportunities.
Best seats at Desert Diamond Arena
Choosing the best seats at Desert Diamond Arena depends very much on what type of event you want to see. You should check the seating charts for each individual event. Things like monster trucks and seasonal spectaculars will occupy the whole arena, while bands will mostly have a stage set up at one end. Fighting events will be staged in the middle, but for all shows you'll also have the benefit of the giant video screens which show you what's happening there.
Concerts are most commonly configured with a stage set up in a fan shape around sections 104-108. Seats directly facing the stage, in sections 116-118 and 220-226, will provide the best head-on views. If you want to be close to the stage and don't mind side-on views, seats in sections 101, 102 and 110 are actual stadium seats and provide better elevation.
Suites 1122-1126 have the most central views, but you'll be further away from the stage. Suites with numbers ending in 04-11 and 37-44 offer the closest side-on views of the stage.